Reflections on British-Jewish Poetry since 1945
3rd April 2019 @ 7:30 pm

-

9:30 pm

£5 – £10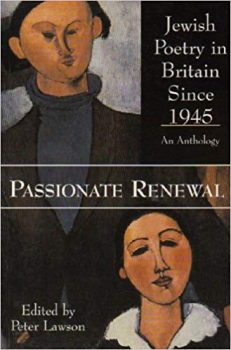 To ask "What is Jewish Poetry?" is to guarantee conflicting, multiple answers. Some people may find the very notion of Jewish poetry in English puzzling. Linguistic essentialists might argue that poetry can only be Jewish if it is written in a Jewish language, such as Yiddish, Hebrew or Ladino.
Without dismissing the debate about whether Jewishness constitutes a linguistic, religious or ethnic identity, this talk introduces British-Jewish poetry from a more environmental perspective. Jewish poets in Britain are members of a minority group, who write as Jews because of specific social, cultural and historical experiences.
Peter Lawson's talk draws substantially on his award-winning anthology Passionate Renewal: Jewish Poetry in Britain since 1945 (Five Leaves, 2001).
About Dr Peter Lawson: Peter's research concerns twentieth and twenty-first century British-Jewish literatures, with an emphasis on poetry and theatre. His publications include the award-winning anthology Passionate Renewal: Jewish Poetry in Britain since 1945 (Five Leaves, 2001) and Anglo-Jewish Poetry from Isaac Rosenberg to Elaine Feinstein (Vallentine Mitchell, 2006). His entry on 'Anglo-Jewish Theatre' appeared in The Cambridge Dictionary of Judaism and Jewish Culture(Cambridge University Press, 2011). Lawson also works on utopian/dystopian literature. He guest-edited the Journal of European Popular Culture under the title 'Utopia and Dystopia in Contemporary British Jewish Literature' (2016), and contributed a chapter on 'The Promised Land: Utopia and Dystopia in Contemporary Anglo-Jewish Literature' to the Yearbook for European-Jewish Literature Studies (De Gruyter, 2016). Dr. Lawson is based at the Open University in London, where he lectures on literatures in English. He is a poet with a full-length collection, Senseless Hours (Bayswater Press, 2009). His website address is: peterlawson.info