Thanks so much for doing this.
Please read this carefully, it will tell you everything you will need to do to make this happen brilliantly!!
To record you will need two devices and headphones (and probably some help from your parents).
You will use one device to record a video of your contribution.
You will use the other to play the backing track (through headphone) which will let you listen to a backing track while you sing and will show you the words.
You are going to be singing Oseh Shalom.  To hear Oseh Shalom click below.
It's the same verse sung three different ways. The backing track takes you through the first way twice, the second way twice, the third way twice, and then the first way once. Clapping is definitely allowed!
The transliteration of the verse is
OSEH SHALOM
Oseh shalom bimromav
Hu ya'aseh shalom aleynu
Ve'al kol yisrael
Ve'imru Amen
It means THE ONE WHO MAKES PEACE
May the One who makes peace in God's high places
make peace upon us
And upon all of Israel
And let us say Amen
We want you to record your contribution with a camera that is fixed in position (on a tripod or propped up securely) in 'portrait' mode with your eyes just above the middle of the screen and your shoulders filling the screen, a bit like this.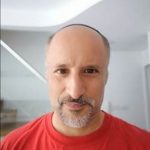 It doesn't need to be too exact.
All men and boys, and any women and girls who wish, should wear a Kippah.
Make sure you are wearing headphones when you are recording, we don't want to hear the playback track on your recording.
When you have the recording device ready and recording press play on the backing track.
When you start the backing track you will hear some clicks and then a short introduction to allow you to be ready for the actual singing. Do have a listen to the track a couple of times before you try recording, just to get in the swing of things.
Then get everything ready to record, and go for it.
At the end of the track don't do anything. Just wait, count to five before you move or turn the camera off.
A couple of warnings;
Singing into a camera with a backing track in your ear, isn't easy. You might get distracted or embarrassed or you might listen back and feel it's not as tuneful as you would like. Please don't worry. We aren't planning on having everyone in view all the time. If you make a little mistake, just keep on going and we can edit around that.
If you want to have a few goes, go for it. But you need to send us a recording that starts with the clicking at the beginning and ends 5 seconds after the end of the song, and, again, don't worry about it not being 'perfect.' Nothing is perfect!
When you have finished your recording, please send it to nlsosehshalom@gmail.com or upload it into Dropbox or similar and send the link to nlsosehshalom@gmail.com.
By sending us a film of your children you are confirming that we (New London Synagogue) have permission to use this recording for a video which will be made available on-line and on social media. In line with Synagogue policies on use of images, we will not be directly identifying participants. There will be no listing of the names of those taking part.
The video will be used in our Rosh Hashanah and Yom Kippur participation video, but we promise an early first-peek to everyone taking part.
We are all so excited to receive your videos.
Many, many thanks,
Rabbi Jeremy