About us
We are a modern community with traditional values.
Our building has been a synagogue since 1882.
Our Masorti community, originally led by Rabbi Louis Jacobs, has been here since 1964.
Our Rabbi, Jeremy Gordon, has been here since 2008 and Rabbi Natasha since 2019.  Our cantorial leads, David Djemal and Yoav Oved, joined in 2022.
That's our history.
Come and be part of our future.
Weekly Words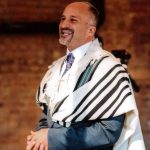 A Statement of Values 
This continues to be the most challenging of times for the people of Israel. My thoughts are with Noam and all those missing loved ones, now held hostage, those mourning, injured and serving. My thoughts are also with the innocent people of Gaza who face challenges that should disturb each of us, no matter how pained and angry we are at the attacks perpetrated across the border from their home.  To continue reading, click here