Following Chazan Stephen Cotsen's retirement, we have employed two new cantorial leads for our community; David Djemal and Yoav Oved who are long-standing friends as well as colleagues, on a job-sharing basis.
Yoav and David are splitting Shabbat and Festive prayer-leadership evenly and will be taking on additional responsibilities including lifecycle support (particularly around BM) and membership development and programming.
At the completion of the reading of one of the five books of the Torah, the reader chants – Hazak, Hazak v'Nitchazek – Strong, strong and may we be strengthened. Blessings of strength to our two new cantorial leads and may we all be strengthened as on this new journey.
We know all members will join us in wishing David and Yoav every success as the guardians of the precious and special position of leader of prayer for New London.
For a recording of an evening of welcome and celebration of our new Cantorial Leads, click here.
Rabbi Jeremy, Abigail Levin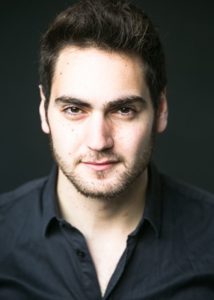 David Djemal:  
David is a Shaliach Tzibbur and a Musical Theatre actor based in London . Originally from Jerusalem, David moved to London in 2014 to study at the prestigious Royal Academy of Music, where he graduated with distinction. Following his studies, David proceeded to perform throughout the UK, Israel, and New York, as well as teaching Hebrew privately as well as for the Spiro Institute. Since 2020, David has been teaching Hebrew, Bar Mitzvah trope, and Jewish Studies for a number of London synagogues as well as privately. In addition to his acting and teaching work, David is co-cantorial lead at New London Synagogue in St John's Wood.
David is an actor and writer who has been performing professionally since the age of nine. As a child he was a member of the "Jerusalem Boys Oratorio" and performed in many professional functions, including a performance in front of Pope John Paul II on his visit to Jerusalem in March 2000.  David studied acting at the Stella Adler Studio of Acting in New York, the Yoram Lowenstein Studio for Performing Arts in Tel Aviv, and is also a graduate of the Royal Academy of Music in London, where he graduated from the  Musical Theatre Post-Graduate programme with distinction. During his studies at the Royal Academy he was awarded First Prize in the HL Hammond Verse Speaking and Poetry Reading competition.
Credits include: De Haan in DEMONS OF JERUSALEM (The Glory), ALADDIN (Mercury Theatre Colchester), Hussam in HIDE & SEEK (Foreign Affairs), Lorenzo in MERCHANT OF VENICE (TSMGO), Benvolio in ROMEO & JULIET, Constantine the Great in CREED (Creative Structures), Aladdin in ALADDIN (The Theatre Chipping Norton), Behrouz Boochani in CITIZEN (The Space Theatre), Benny in SCOOP (The Rose Playhouse), Yigal Amir in NOVEMBER (Beit Shmuel), as well as providing voice work for notable film and TV projects including ENTEBBE, THE CROWN (Netflix), and BBC's McMAFIA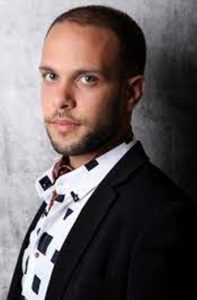 Yoav Oved adds:  
Having led the community of Westminster Synagogue in singing for many years, it is a pleasure to take on a more active and involved role, within a community of heart and a love for Jewish music.
Alongside David, our partnership and friendship will be a flourishing time within NLS for many more years.