In January 2008, Rabbi Jeremy Gordon accepted a call to become the rabbi of New London Synagogue.
Rabbi Jeremy has been a member of New London Synagogue since the age of 1. He grew up, attended Cheder and celebrated his Bar Mitzvah here.
Rabbi Jeremy has a first class honours degree in Law from Cambridge University and subsequently went to work in television. His love of Judaism was really ignited at the Limmud Conference in December 1995. This marked the start of a decade of study in England, at the Hebrew University and the Conservative Yeshiva in Jerusalem and the Jewish Theological Seminary in New York. He graduated from JTS with Rabbinic Ordination, a Masters in Midrash (Rabbinic Exegesis) and a number of academic awards.
While in New York, Rabbi Jeremy trained as a hospital Chaplain and spent many hours working as a Chaplain with the Red Cross in the aftermath of the September 11th attacks. He has been active in a number of social action campaigns – particularly relating to refugee issues and international development – and has served as convenor of a major interfaith dialogue forum in New York.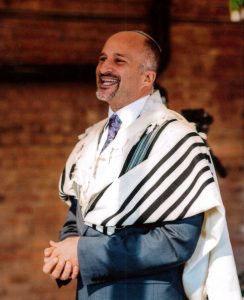 Following ordination in 2004 Rabbi Jeremy served St Albans Masorti Synagogue for four years before coming to NLS. He is married to Josephine who directs the arts-charity Dash Arts. They have two sons, Carmi and Harry, and a daughter Eliana.
He has published numerous articles in the Jewish Chronicle and other papers and has appeared in various radio and TV shows. His collection of articles, Spiritual Vagabondry, is available here.
Rabbi Jeremy regularly posts sermons and other writings to his blog, or you can follow Rabbi Jeremy on Facebook. His weekly Tuesday lunchtime Midrash class is streamed to FB Live – contact the Rabbi for more information.
Contact rabbi@newlondon.org.uk. Please ensure that you include a phone number if you would like him to get back in touch with you.