Volunteer    
The Drop-In Centre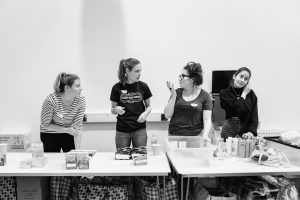 Come along and get involved on the first Sunday afternoon of every month at the Archer Academy, Eagans Close, London, N2 8GA
Volunteers meet at 1pm to set-up in advance of our clients arriving at 2pm. We always finish by 5pm.
Young volunteers aged between 12-16 must be accompanied by a parent.
Clothes Sorting
This takes place on the Wednesday evening before the drop-in at 7pm in Belsize Park.
We meet at 6:45pm to sort through our clothing donations and put them into labelled bags for the drop-in. It's always a fun atmosphere and refreshments are provided. Children are welcome.
Bring Food
Please bring along vegetarian food to the drop-in. Our clients love rice, couscous, roasted vegetable and bean dishes, as well as salads, hard-boiled eggs, cakes, biscuits and fruit. If you aren't a cook, we welcome cartons of fruit juice or bottles of fizzy drinks.
Donate Clothing  
We accept all good-quality, second-hand clothing (apart from underwear). We particularly welcome larger sizes for women (16+), suitcases, holdalls and rucksacks. Bring donations in clearly labelled bags (men/women/kids) to New London Synagogue from Monday to Wednesday, 8:30am-1pm, or to the sorting session.
Please do not leave bags outside the building, as this is a security risk.
Donate Toiletries
We also welcome new toiletries along with the clothing donations. Alternatively, donate through http://www.bloodygood-period.com.